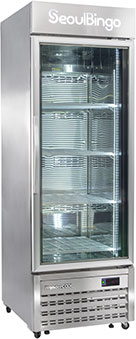 Air Control now sells these revolutionary new refrigerators. This ground-breaking product is designed to not only keep your drinks cooler, but also stores them at below zero temperatures without freezing to preserve flavour and quality. The Supercooled Slush Magic Freezer works with your favourite beverage – including alcoholic drinks!
For more information, please check out www.seoulbingo.com.au or Contact Us for a quote!
The process is simple! Once the drink is retrieved from the SeoulBingo fridge, a simple tap, shake, twist or pour will transform it from liquid into an ice cold instant slushy that will quench anyone's thirst. Yes that's right, you can literally watch your favourite beverage change into a super slushy right in front of your eyes.